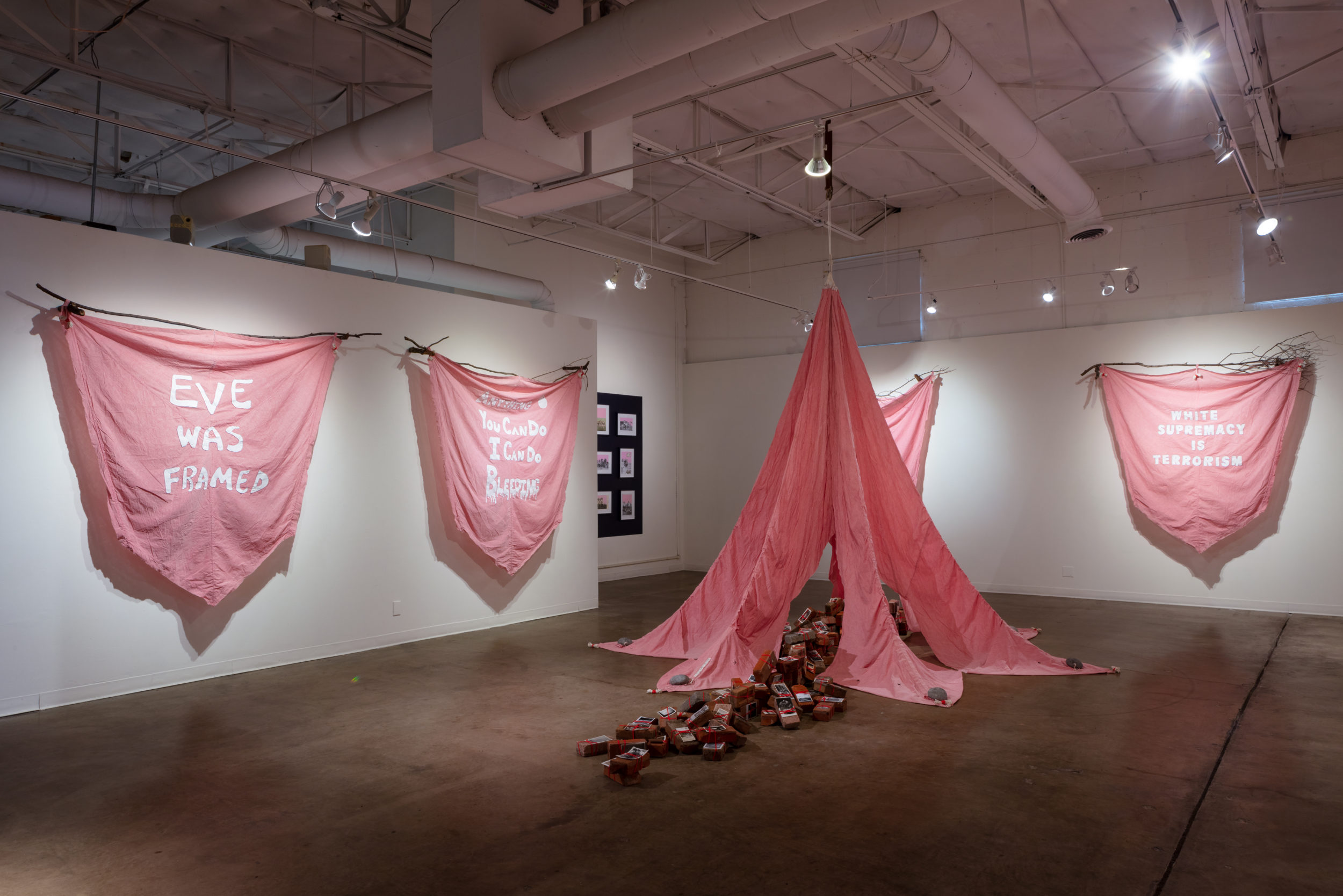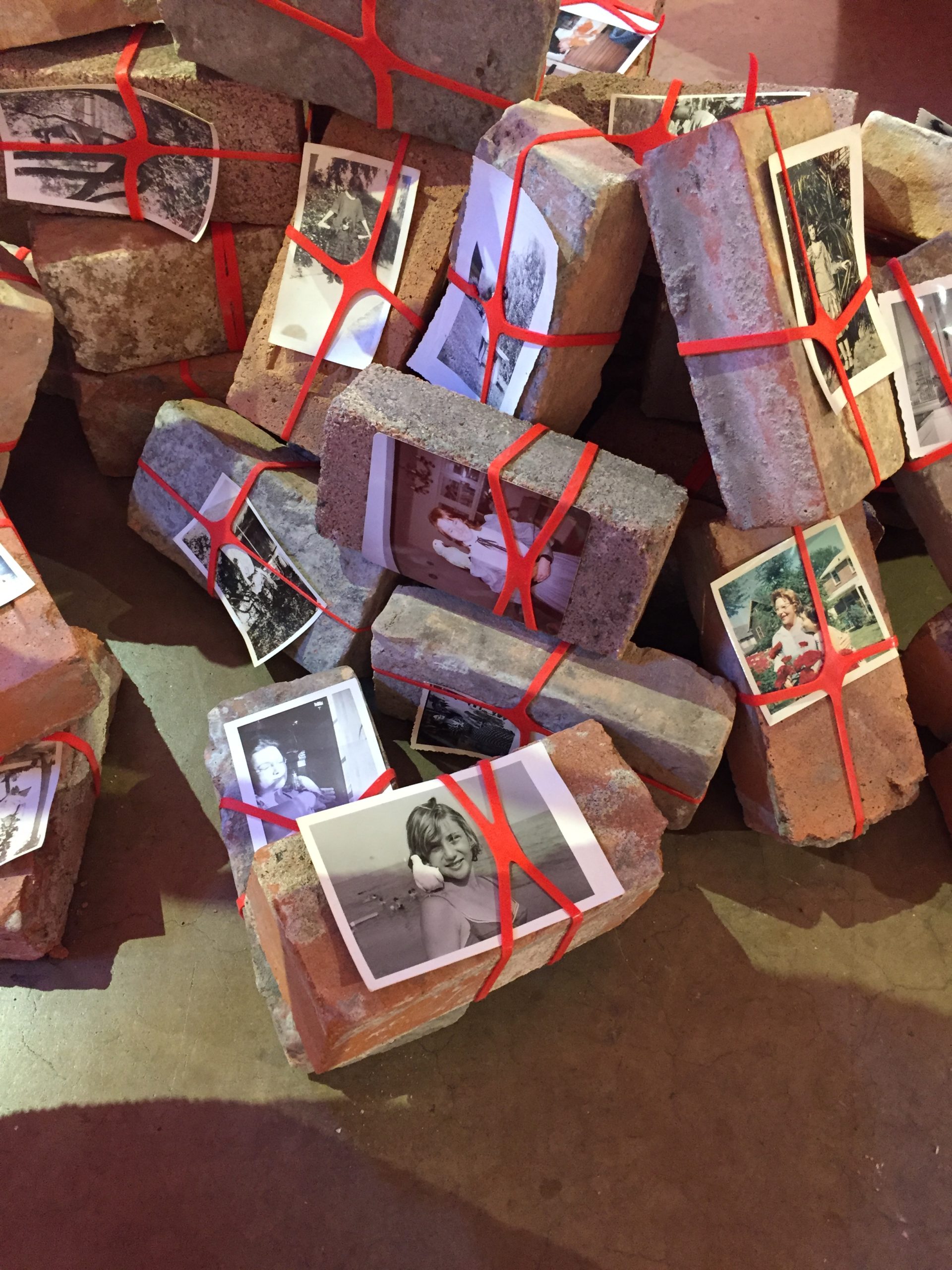 October 20- November 24th, 2018 at Conduit Gallery, Dallas, TX

Sculpture Magazine Review
Art+Culture Magazine Review
Dallas Morning News
Hope Is The Thing With Feathers addresses contemporary feminist protest and the legacies from which it draws. Meehan's work will include banners made from WWII parachutes, archival photographs strapped to bricks, a sculptural image of two feet edging towards a precipice, caught between shame and the defiant will to fly, and a collaborative sound piece that weaves together the calls of ravens and songbirds.
While there are political histories of activism in this exhibition, its poetics are paramount, with larger themes such as lightness and gravity. Lightness is alluded to with suggested images such as birds escaping their cages, bricks or stones flying through the air, parachutes floating from the sky, and the soaring qualities of hopeful rhetoric. Gravity is felt through the same bricks or stones that pull us downward, like pragmatism resisting the tug of transcendence. These themes are crucial to both contemporary and historical protest movements.
The banners in the exhibition will include phrases pulled from actual protests: the Suffragette Movement, 1960s and 70s second wave feminists and the 2017 Women's March for example. Some phrases include: THE YOUNG ARE AT THE GATES – EVE WAS FRAMED – ANYTHING YOU CAN DO I CAN DO BLEEDING – and WHITE SUPREMACY IS TERRORISM. The last phrase came from a t-shirt worn by Therese Patricia Okoumou, a 44 year old American immigrant from the Democratic Republic of Congo, who staged a protest against US immigration policies at the feet of the Statue of Liberty. This protest was intersectional, combining gender, race, and ethnicity, qualities that Meehen has seeded through many of the works in the show, including a series of archival photographs of women with birds. The women in these photographs are intentionally diverse in terms of race, class, and the way that they present their gender, a correction to many years of straight white feminism's exclusions.
The Women's March is emblematic of a reignited activism, a call to action, and a leap of faith in relation to the power of populism. Women have played a crucial role in terms of not only reproductive or LGBTQ rights, but also a range of issues including immigration, environmental justice, and workers' rights. This exhibition recalls these facts but also the debates that have torn at the fabric of resistance movements: what are the relative merits of symbolic or real violence? Or tactics that include a brick being thrown through a window, parachuting into enemy territory to fight in an armed struggle, or marching through the streets? Or in another sense, when we gather together, do we act as an unkindness of ravens or a flock of songbirds?
As a part of the exhibition Meehan has published a limited edition cassette tape, a collaboration with David Coccagna, which will include the sound piece from the show as well as a B-side comprised of reconfigured text from Virginia Woolfe's The Waves that also informed her research. All proceeds from the collaboration will be donated to Planned Parenthood.
Photo credit: Kevin Todora